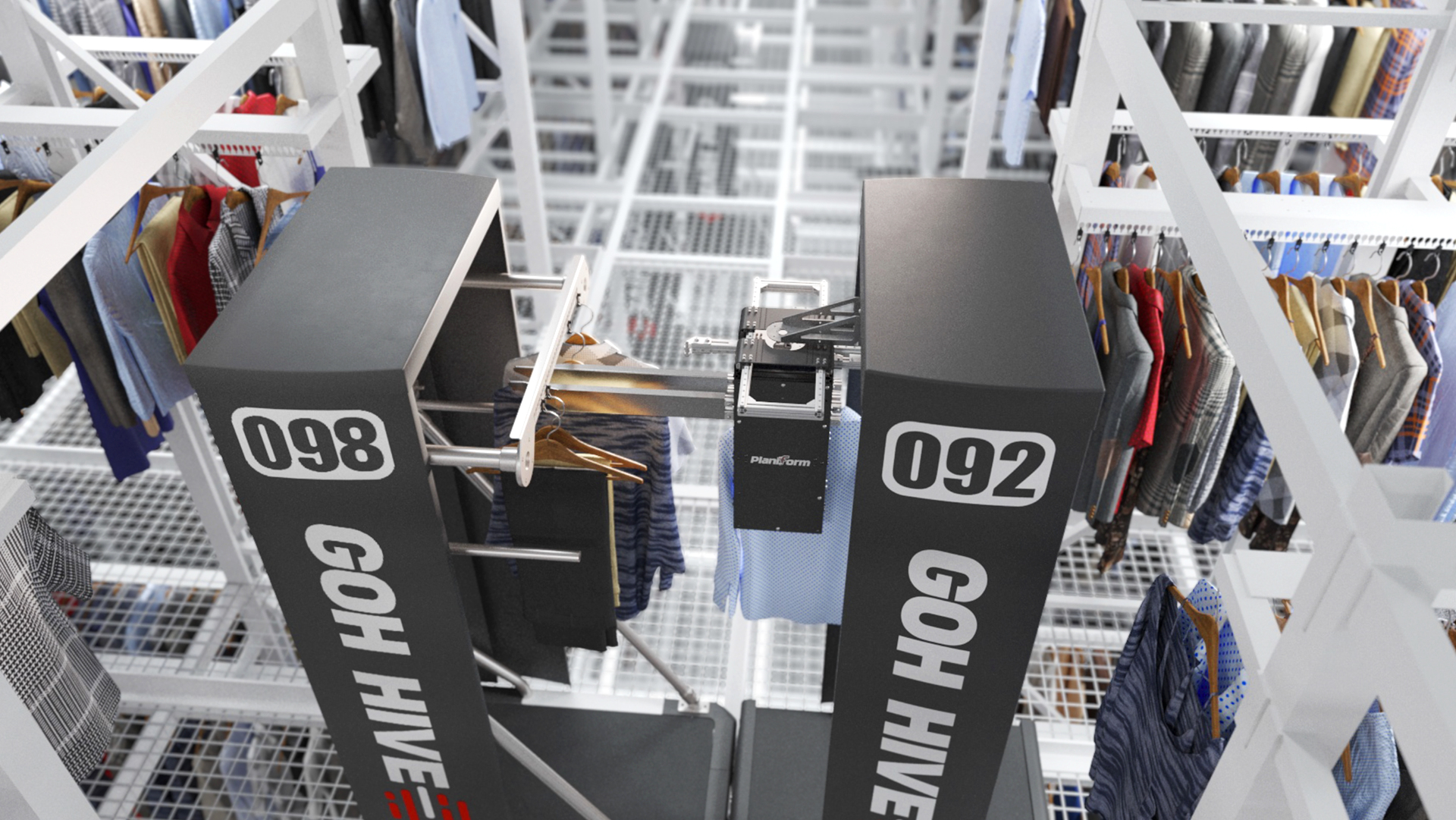 Planiform launches new storage/retrieval system for garments on hangers (GOH)
April 14th, 2021
Planiform is proud to announce the upcoming launch of its revolutionary automated system for storage and retrieval of garments on hangers (GOH). The GOH Hive will be launched in July 2021 and is expected to receive accolades from a variety of garment-handling businesses including warehouses, distribution centres, e-commerce businesses, and more.
The differentiating factor
The GOH Hive is an innovative system powered by smart robots that read unique SKUs and then determine how each garment should be handled. The system is built on multiple levels and robots use elevators to access the rows of garments stored in ship-ready condition. Because the system can handle single SKUs, it is the ideal solution for e-commerce orders. The automated system makes use of all available storage space and can operate with as little as one human operator: making it a desirable solution during periods of labour shortage.
Greater speed and efficiency
The GOH Hive is both quick and efficient, providing operators with a more detailed overview of stock inventory and management. Depending on how many robots are added to the system and the system configuration, an unlimited number of items can be processed per hour using the GOH Hive. Robots work all day and night to store garments and prepare items for shipping. Due to the recent unprecedented increase in e-commerce business, many service providers are struggling to meet the growing demands of their businesses. The GOH Hive is a scalable solution that allows for greater precision and reduced human error in garment handling.
A new kind of launch
Planiform has chosen to reveal its newest product using YouTube Premiere so that viewers can experience the reveal together and comment on the showcasing video in real time. While the official product launch will take place in July 2021, the YouTube video release happened on Monday March 22nd, 2021. The GOH Hive will also be presented next year at Modex 2022, a supply chain tradeshow that invites manufacturing and supply chain buyers to source new products to help optimize their workflow.